Corporal Len Moore 2nd KRRC
Leonard George Moore was born on 17th October 1917 in 48 Eastwood Street, Streatham. He was a World War One war baby. His father William George Moore is shown as being a Gunner with the Royal Garrison Artillery on his birth certificate.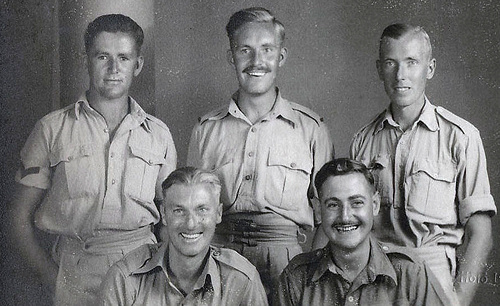 Len with his Army mates. (top left) The photo was probably taken in Cairo whilst on leave.
Len joined the British Army 2nd Battalion Kings Royal Rifle Corps Mechanized Infantry Regiment ( 2/KRRC ) on 15th January 1940. He was 22 years old. His army number was 6848248. His Joining papers show that he had been a Cabinet Assembler, working with his older brother Arthur Moore, who was a carpenter, for Marconi in Rowan Road, Streatham, South London, constructing refrigerators. He was 5ft 10 1/2 inches tall.
Whilst he was undergoing initial training in England many of the Kings Royal Rifle Corps were stuck in France protecting the beaches of Dunkirk so the rest of the British Expeditionary Force (BEF) could be evacuated. Many died or were taken prisoner. He was posted to the 2nd Battalion KRRC on 20th June 1940. Len was older than many of the new conscripts and was promoted to "unpaid acting Lance Corporal on 1st May 1941. He was confirmed in the post and paid as a Lance Corporal on 1st July 1941. He was promoted to full corporal 29th August 1942.
His battalion left England by ship on 27th September 1941. He went to Durban in South Africa for further training before being sent to the North African Desert as part of Monty's 8th Army Desert Rats. He arrived on 2nd December 1941 and was now part of the Allied Mediterranean Expeditionary Force (MEF). Len spent the next 21 months of his life at the battle front, under fire, risking his life for his country. The 2nd Battalion of the Kings Royal Rifle Corps was an active British military fighting unit.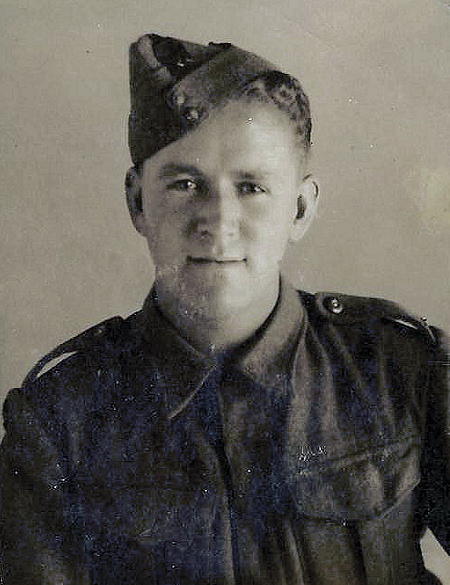 Rifleman Len Moore in his Kings Royal Rifles Corps infantry uniform taken at training camp
He then went to fight in Italy (he did not fight in Sicily). His Army record shows him "NA" not available for active service on 18th October 1943, just after the 2nd Battalion KRRC had landed in Italy. He spent just over 3 months in Italy ill, probably in hospital. Len was later sent home ill with Gastric Cancer. His army record shows that he had 80% carcinoma of the stomach. Len arrived back in England on 9th February 1944. He was given 6 months to live but died 10 years later.
He was discharged on 4th August 1944 having served 4 years and 202 days. In the desert Len used to keep a pet chameleon on his shoulder to help keep the flies away. Its long tongue would zap them out of the sky if they came near. He told a story that he cut off the badly damaged leg of British Foreign Secretary Lord Halifax's son, Captain Charles Ingram Courtenay Wood, Royal Horse Guards (2nd Earl of Halifax) with a pair of scissors in the Desert. Wood was later known as Lord Irwin when he returned to being a member of Parliament. Len died back in England aged 36 from Stomach Cancer.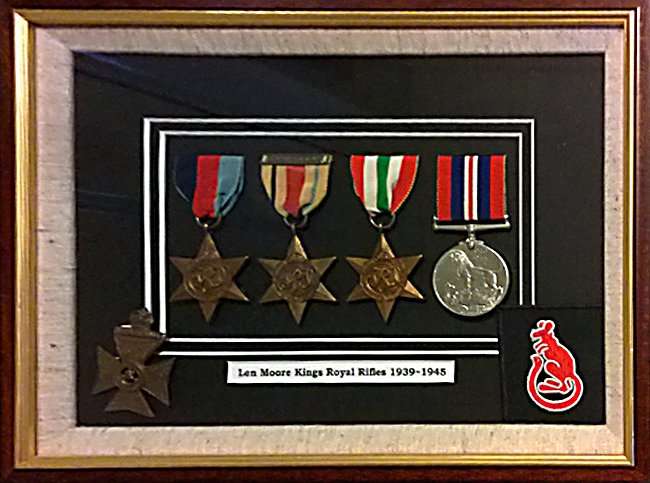 Corporal Len Moore's King's Royal Rifle Corps WW2 Medals (left to right 1939-45 Star, Africa Star with 8th Army clasp, Italy Star and War Medal 1939-45)
The next few pages will tell the story of his time in the 2nd Battalion Kings Royal Rifle Corps as a member to the British 8th Army in North Africa, a true "Desert Rat". Len Moore did not leave a war diary and did not speak of his experiences to his family very much. I have tried to find accounts from people that served in Len's battalion so you can get an idea of the hardships, horrors and exotic experiences he had to deal with. Click the next button.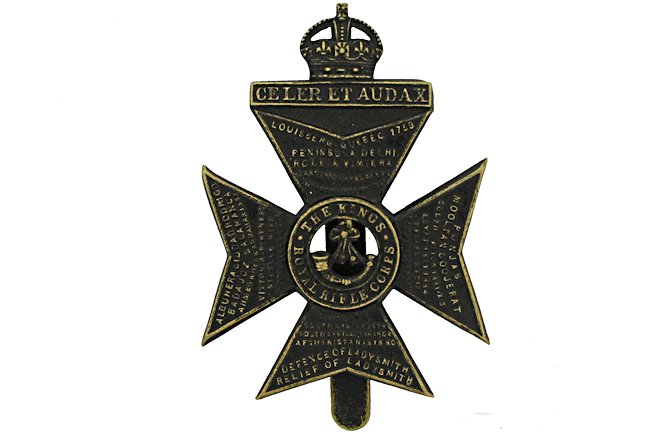 This is the cap badge of the Kings Royal Rifle Corps with the battle honours named around it.