Gunner Arthur Moore
Royal Artillery 1940 - 1943 Northern Ireland


Arthur Moore was born during World War One on 29th September 1915 and given the name William Arthur Moore. He was named William after his father but to save confusion he used the name Arthur. His father was in the Army at the time of his birth. He was 24 years old when he joined the Army as a Royal Artillery gunner on 16th May 1940. His father William George Moore had served in the Royal Garrison Artillery during WW1. Arthur was 5 foot 7 1/2 inches tall with a 40 inch chest according to his army record. He had been a Carpenter, working with his younger brother Len Moore, for Marconi in Rowan Road Streatham, constructing refrigerators.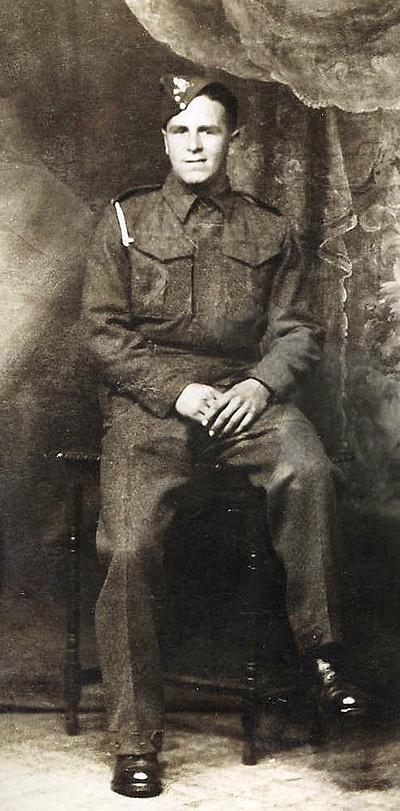 This is Arthur Moore in his Royal Artillery Uniform. Notice the polished boots and adjustable trouser bottoms.
He was ordered to report to the 12th Field Training Regiment Royal Artillery at Gordon Barracks, Bulford, Wiltshire, on the A303 about 10 miles north of Salisbury. Arthur was kitted out with prickly battledress, thick shirts and heavy boots. He soon learned to polish buttons and boots, press uniform and colour the webbing equipment. More medical examinations and inoculations made sure that he were fit enough. Six weeks of parade ground marching, physical exercise, rifle shooting, gun drill with First War 18 pounder guns, such as those used in the Royal Tournament, were sufficient to meet the grade to enable him to attend the passing out parade and receive his first home leave.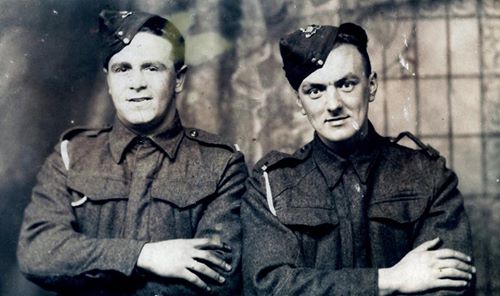 He was posted to 525 Coast Regiment Royal Artillery (525 Coast Regt RA) in County Antrim in Northern Ireland on 14th June 1940. They were based around Belfast and manned large 6 inch navel guns. Arthur spent the next three years in Northern Ireland. His regiment's job was to protect the port of Belfast from German surface raiding vessel.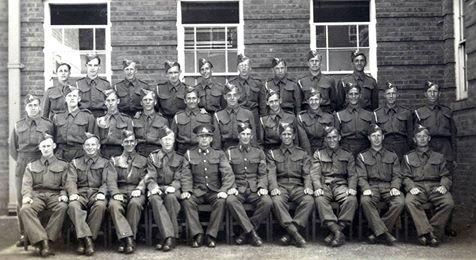 Gunner Arthur Moore is fourth from the right bottom row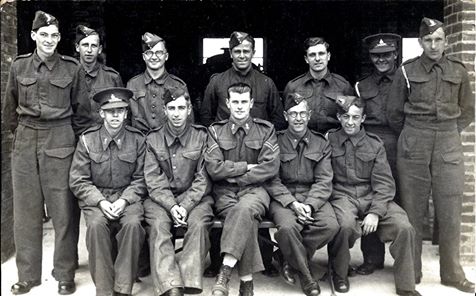 Gunner Arthur Moore is in the middle in the top row