Trooper Sydney Moore
144th Regiment RAC, Battle for Noyers-Bocage 16th July 1944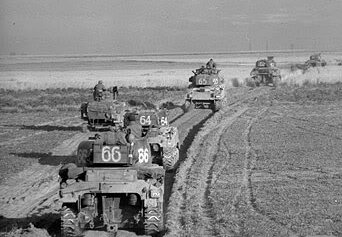 THE BATTLE OF NOYERS-BOCAGE 16th July 1944 (Day one) OPERATION POMEGRANATE
Cherbourg had fallen to the Americans. Now attention was being given to breaking out from the wide Normandy Allied beachhead. The British managed to keep 6 out of the 8 German Panzer divisions opposite its location around Caen, through constant attacks. This meant that when the on the 25th July when the American's attacked on their successful break out, Operation Cobra, they only had to face 2 German Panzer Divisions. Before that happened the 144th Royal Armoured Corps were told that they were going to be part of the attack at Noyers-Bocage in support of the 177 infantry Brigade. They were told on 13th July to move to a new 'harbour' at Loucelles. This attack was to be a diversionary attack to draw away German units from the main attack codenamed Operation Goodwood, that was going to try and capture the rest of Caen. Op Goodwood was to be launched on 18th July 1944. The idea was to fool the Germans that Noyers-Bocage was going to be the British breakout point. It achieved its objective because the British code breakers later intercepted a German message to their high command that the attack on Noyers-Bocage was a 'particularly dangerous armoured thrust'. As a result parts of a German Panzer division were instructed to reinforce the area around Noyers-Bocage which is what Montgomery wanted. Sid's Regiment were up against the German 277th Infantriedivision and 10 SS Panzerdivision, both were under the command of 2nd SS PanzerKorps. Later the reserve unit, 9th SS Panzerdivision, would be called up to reinforce the German line at Noyers-Bocage.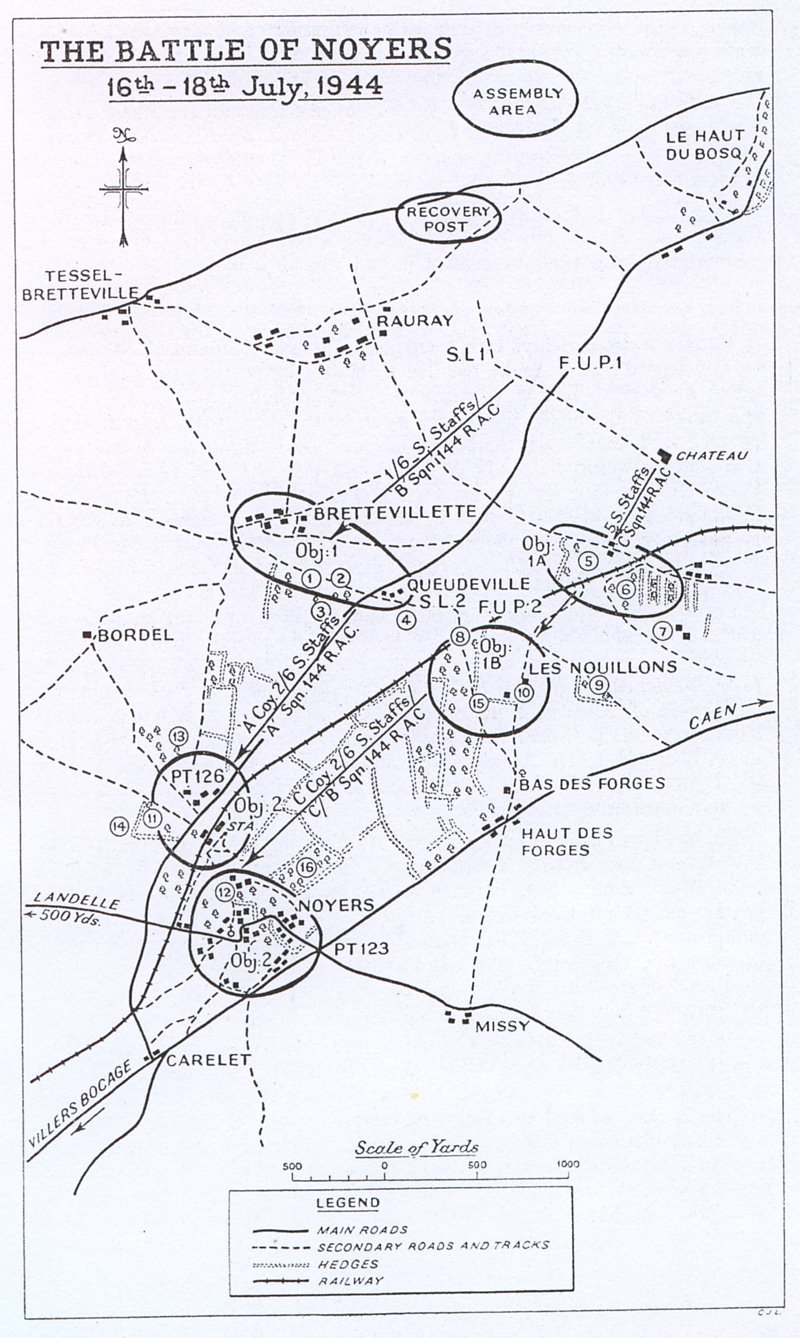 The battle for Noyers-Bocage, Operation Pomegranate, was to start on 15th July. Search lights were pointed up to the clouds to give artificial Moon light to the infantry that started their attack at night. This was the first time this tactic had been used. The tanks were to follow at first light on 16th July. Churchill anti-mine Flail tanks and flame throwing Crocodile Churchill tanks joined the attack. This was the first time the whole regiment was going to be involved in a pre-planned attack and not act as a reserve force. The Flail tanks cleared the way through mine fields. Sid's tank moved to the assembly area north east of Rauray at 1.30am. They followed marked lights in the ground so they could not get lost. All the tanks were in position by 3.15am. There was not much ground mist that morning apart from in the odd hollow. It was warm and calm. Some of the tanks moved up to the start line.
At 5.30am the sound of Allied artillery shells whizzing overhead were heard over. That was the signal for the tank engines to be started. The dust from the exploding shells started to drift back to Sid's line of tanks. It made it impossible to see anything further than a few yards ahead. Two attacking separate columns were to move south west towards Noyers-Bocage either side of the railway line and main south west / north east road. As the column moved off tanks began to lose direction and contact with the infantry units who had been assigned to follow them. Some tanks ran into mine fields. B squadron had lost 13 Sherman Tanks to mines and one to a German bazooka. C squadron also had tanks knocked out by mines and bazookas. The morning was spent by the tank crews that survived dealing with German infantry machine gun posts and gun emplacements in orchards, buildings and trenches.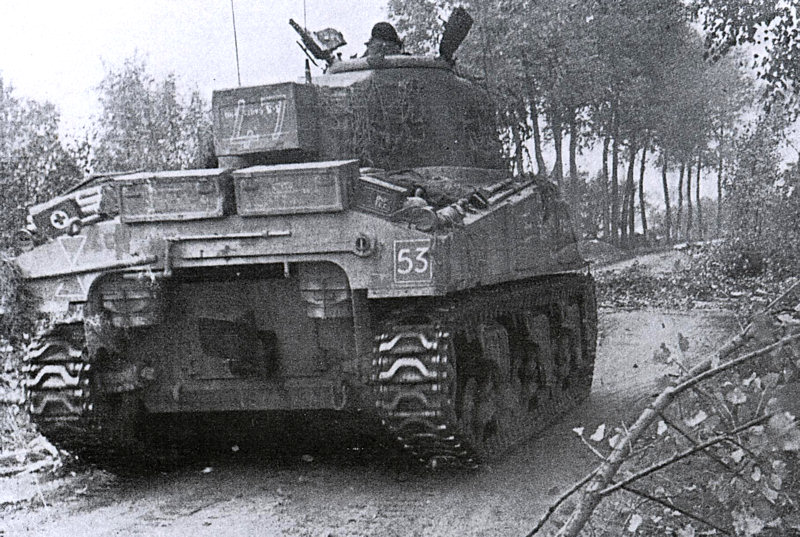 By noon the regiment had reached Queudeville and Les Nouillons. B Squadron only had 5 tanks left and C Squadron had 7 tanks left. A squadron had been in reserve and had only lost one Sherman tank to a mine. B and C squadrons had to withdraw to get more fuel and ammunition before the next phase of the battle. The Churchill Flail tanks were used to clear more land of mines. As a result no more tanks were lost to mines.
A squadron's tanks now joined the attack. They followed an artillery barrage that moved forward at the rate of 100 yards every 3 minutes. There were able to blow up five German 75mm anti tank guns before the gunners came out of hiding from the artillery shells and man the guns. They also were able to take on a heavily armoured Panther tank that was lying in wait by the railway station and destroy it. The supporting British infantry dealt with the rest of the Germans soldiers and took lots of prisoners. Only one tank in A squadron was knocked out.
B and C squadrons had to advance through countryside that was more like the Normandy Bocage. It had sunken roads and high field boundaries that were ideal for camouflaging anti-tank guns and machine gun posts. They lost more tanks as they tried to cross ditches and hedges, mainly from concealed anti-tank guns. They reached the area just north of the railway station at about 9pm. A decision was made not to attack Noyers-Bocage that day as there was only two hours of day light left. As soon as British Anti-Tank guns could be deployed in a forward position the Tanks were ordered back half a mile, under the cover of darkness, to refuel and load on more ammunition.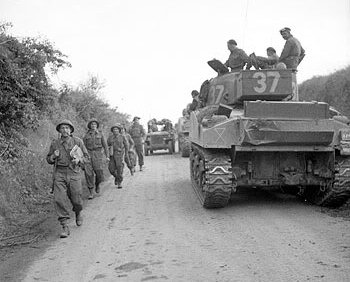 Notice the sunken road and high hedges of the Normandy Bocage countryside
Books that cover Op Totalize are 'Blue Flash' written by Alan Jolly (p47 covers Sid) & 'No Holding Back' by Brian A Reid