Trooper Sydney Moore
Tank Training in the UK 6th August 1943 - June 1944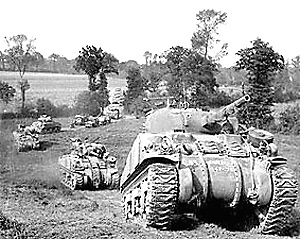 Sid was born 10th March 1923. Sid's army records show that Trooper Private (Tpr) Sydney Francis Moore Army No 14217106 enlisted at Portsmouth on 25th June 1942 aged 19. His previous employment was as a 'General Clerk'. His Regiment was not involved in the 6th June 1944 D-Day landings. His records shows he landed in North West Europe on 14th June 1944. They were held in reserve to be ready to deal with any German counter attack. Then on the 15th July 1944 he was involved in the diversionary battle for the village of Noyers with the aim of keeping German Panzer units busy whilst the Americans broke out from the Cherbourg peninsula. On the 7th August he took part in Operation Totalize the Allied break out south of Caen. The first night attack by British Armour. On 8th August his tank was hit and he was badly injured. He was burnt and lost a leg. He was transported back to England.
On 6th August 1942 he reported to 8 P.T.C. (Primary Training Corps) Beverley, East Yorkshire for his Army basic training. On completion he was transferred to the Royal Armored Corps (RAC) 51st Training Regiment at Beverley on 16th September 1942. In the middle of a very cold winter he undertook further tank training at Catterick, Yorkshire on 6th February 1943. He was finally posted to the 144th Regiment Royal Armored Corps (RAC) at Bovington Camp, Dorset as Trooper Sydney Moore on 2nd March 1943.
The 144th Regiment, Royal Armoured Corps was stationed in Livermere Camp near Bury St Edmonds. when Trooper Sid (Sydney) Moore joined the regiment. They were still being trained how to fight in the 'Infantry Tank Role', that is to say in close support of the infantry. This was in a stark contrast in how the Germans fought. They used heavy armour to fight through the enemy's line and their infantry were all motorised and gave the tanks support. The British had not yet adjusted their tactics. They had not learnt from their defeats in France when they faced the German Blitzkrieg
They were issued with the new American Sherman tanks. Sid spent most of his time on army exercises on the Thetford and Stamford Training Areas with the 49th and 62nd Infantry Divisions. Someone in Army HQ had a rotten sense of humour because the 144th RAC regiment was sent to spend winter in Scotland. This time the winter of 1943-44 was spent in Barracks in Lesmahagow near Glasgow. They left their nice new Sherman tanks down south and had to use older Churchill tanks.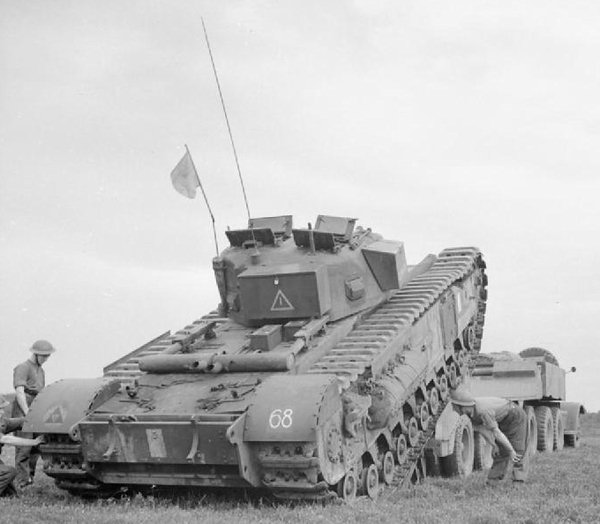 With the better weather came better news. They were all heading back south again. In the spring of 1944 the 144th Royal Armoured Corps were stationed at Fornham Camp which was also near Bury St Edmonds. The regiment were re-equipped for the second time with Sherman Tanks and started training with the 49th Infantry Division for the impending invasion of Europe. It was only in the last few months of Spring that it was realised by Senior officers that they should change tactics and use their tanks like the Germans do as an armoured fist that punched through enemy defensive lines. The regiment started to train for this new role.
The last training exercises the regiment conducted before the embarked for Normandy was on 18th April 1944. It was held on the Thetford Training Area. They then moved on to the Stamford battle Area on the 19th April to practice attacks with other units. Sid experienced a rather wet and unpleasant night before the main battle training on the 20th April. It was a strange experience for the tank crews to be greeted by angry British Farmers shaking their fist at them whilst shouting abuse as they drove across open fields in battle attack formation a few months before D-Day. The farmers had not been told what was happening and why. They just saw it as wanton damage. They did not consider that the tank crews needed to practice their skills in realistic conditions. In France they will be driving across fields not just sticking to roads and tracks. The tanks crews had to master tank gunnery. Trooper Sid Moore spent a number of pleasant sunny spring days on the live fire ranges at Boyton, Holkham and Neathertown.
At the conclusion of the exercise on 22nd April 1944, Sid had to parade in his best uniform on a secluded Suffolk field with the rest of his regiment to be inspected by the King. It was perfect weather and his Majesty King George VI walked up and down each line stopping to talk to a soldier every now and then. This is a photograph of HM King George VI speaking with a REME soldier. In the back ground you can see soldiers on parade wearing black berets. They are tank crew from the 144th Regiment Royal Armoured Corps. Trooper Sydney Moore was on parade when this photo was taken and would have been proudly wearing his black beret.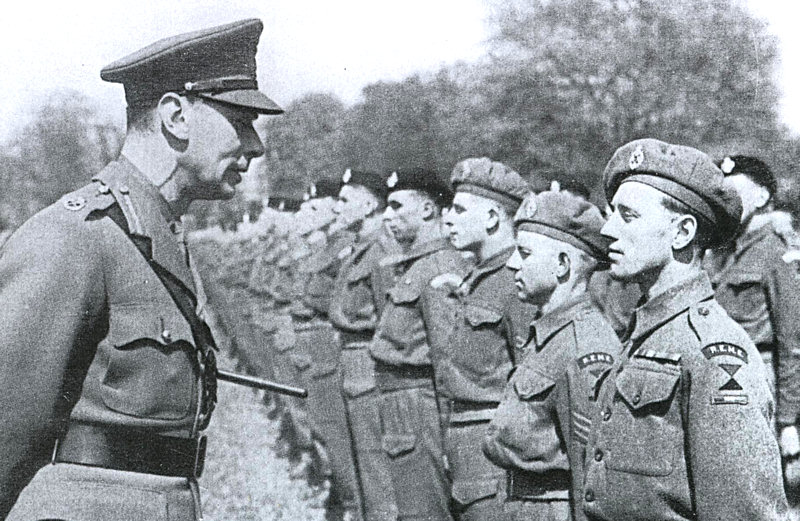 That would be via the pre fabricated British Mulberry Harbour at Arromanches just north east of Bayeux on the Normandy coast in France. In the 100 days after D-Day the Mulberry Harbours landed over 2.5 million men, 500,000 vehicles and over 4 million tonnes of supplies. He was a gunner in a Sherman Tank.
Books that cover Op Totalize are 'Blue Flash' written by Alan Jolly (p47 covers Sid) & 'No Holding Back' by Brian A Reid