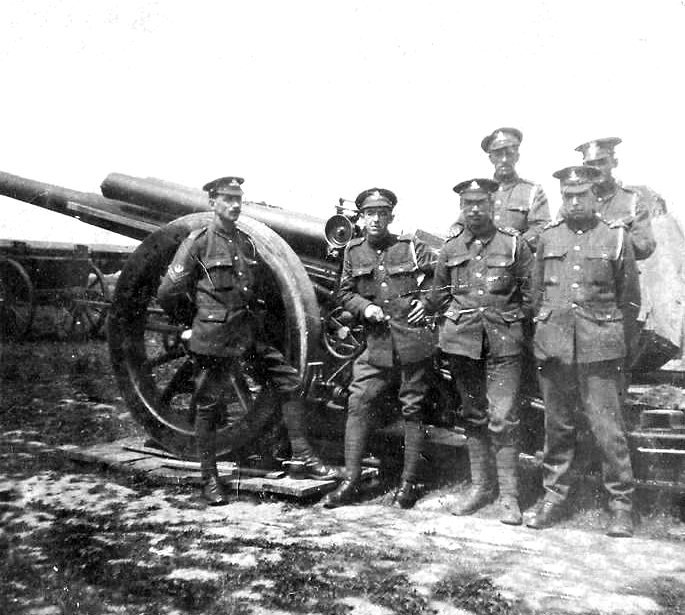 Having searched the National Archives military medal records there are two possible Gunner William G Moore listed in WW1 in Artillery units.
Moore, William G 1914 - 1920 Royal Garrison Artillery - Gunner No. 96397
Moore, William G 1914 - 1920 Royal Garrison Artillery - Gunner No. 79552

The task will now be to find out which one of these William G Moores is the Gunner in the photograph and find out what that unit did during WW1. Before he joined the Army he gave his occupation as a Publishers Assistant. He had been given a promotion. William started off his working life as a printer's machine boy and then became a 'Book Packer'. During the ware he spent long periods of time in flooded trenches. Constant wet clothing and legs gave him "trench foot" and later in life arthritis. Over 20,000 men in the British Army are recorded as having suffered 'Trench foot' at the end of 1914. In really bad cases gangrene set in and soldiers had to have toes and sometime feet amputated. Later during the war improved trench drainage systems and the use of raised wooden boards helped reduce the amount of casualties. Men's feet were regularly inspected to check they were looking after them by cleaning their feet. greasing their toes and changing socks. There were times when even these precautions were useless as there was just too much water.
Trench foot is a condition where the feet become numb because of prolonged exposure to cold damp unsanitary conditions. Blood circulation to the foot causes them to turn red or blue. As the condition worsens the feet swell and may start to get ulcers, fungle infections, blisters and open sores. All very painful. Feet become terribly disfigured and in some cases the bone pokes through the skin
When the war ended he married Ethel May Groves and lived at 48 Eastwood Street, Streatham, London. He went back to work in 'The Print' as a Warehouseman for a big printing and publishing company called Pitmans in central London and later at Neasden near Wembley when the company relocated to bigger premises. He was not a well man. When he retied he could hardly walk but would make the effort on his own to shuffle up Southcroft Road to get a haircut at the barbers.
This is a photograph taken of him later in his back garden in Tooting with his Grandson John and Granddaughter Hazel.


Francis Frederick Moore born 1888 is aged 26 in 1914 - He was the youngest of the brothers when war broke out. "He volunteered in May 1915 and was a Private in the 10th Queen's Royal Regiment (West Surrey). He was sent to France in 1916 where he was in action at Albert, Nieuport, St Quentin, The Somme, Beaumont-Hamel, Bullecourt, Messines, Diel??buscit, Perenue, Épéhy and many other engagements in the Retreat and Advance of 1918. After the Armistace he proceeded with the Army of Occupation to Cologne. He was demobilised in May 1919 and holds the General Service and Victory Medal. 69 Azcuby Road, Peckham, London SE15" (Extract form the National Roll of the Great War 1914-1918) This is a link to the War Diaries of the 10th Queen's (Royal West Surrey) Regiment http://qrrarchive.websds.net/menu3.aspx You can read about where Private Francis Frederick Moore was on each day of the war.